Greenhouse automation installation services with automatic greenhouse efficiency studies and system installations are realized. Our automations can be installed for both hydroponic greenhouses and grounded normal greenhouses. In our modern automation services;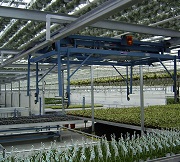 Heating & Cooling
Ventilation & Air Conditioning
Lighting
Grounding & Fertizilation
Irrigation
Delivery of Mineral Nutrients to Roots,
We can group processes such as open field production, greenhouse production, vegetable production, flower production and even mushroom production in closed areas as follows:
Greenhouse climate control systems.
Irrigation fertilization systems.
Energy management systems.
Seed drills, irrigation apparatus, spraying apparatus.
Classification and classification systems; packaging systems.
– In facilities where water infrastructure is weak, attention should be given to healthy and adequate storage and treatment.
– Even if the electrical installation is done correctly, all of the low current computer control systems should be supplied with clean energy and continuous energy, regardless of the quality of the electrical energy in our country.
– Extensive grounding must be applied in wide-spread installations, especially if the ground water retention property is poor. Although it may seem expensive from the beginning, the damages that these systems will prevent are large.
- Turnkey Greenhouse Services
The first work
Design Phase
Greenhouse installation can be analyzed very well in the region, land, air facility and cultivated plant species. A good greenhouse goes through a right design.
Top Quality Supplies
The Construction Phase
Material quality, accurate calculations and labor level when building the construction of the greenhouse.
Increasing Efficiency
Professional Greenhouse Systems
To maximize greenhouse efficiency we provide climate control systems and automations. The main goal is maximum efficiency and quality.